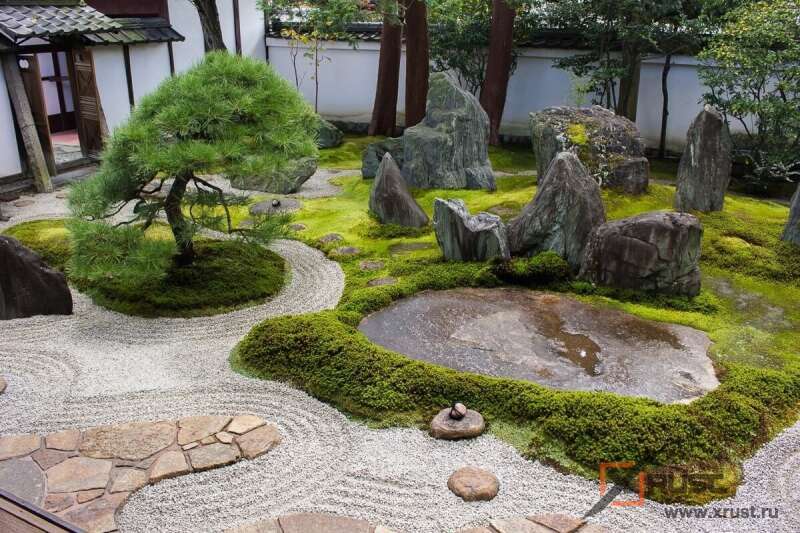 Stones in an artificial landscape are usually included in a decorative composition, which is called a rocky garden or rockery.
An ideal natural stone — a river boulder in Moscow is suitable for landscape design, interior and exterior decoration. A flat boulder is small in size and flat in shape, with rounded edges. May have different colors such as red, grey, black, yellow and various shades of these colors. Because of its shape, it is actively used in landscape design to create various stone paintings, as well as to create artificial rivers and waterfalls. A flat boulder can be either a detail that emphasizes the whole composition, or the main element of the composition. Thanks to its flat shape, it can also be used as a canvas for paintings.
River Pebbles
River pebbles are fragments of various rocks that have been rolled over by the river for a long time, because of which the stone has acquired rounded edges. The scope of river pebbles, which you can buy here https://ekokamni.ru/, can be very diverse, from wall cladding to the design of artificial reservoirs, which is why it is very popular in landscape design.
There are several main types of rocky garden
1. Rocky hill (alpine hill). The most difficult type of rockery to manufacture. A large number of tightly closed stones are stacked in 2 or more tiers. At the same time, they should not lie in a heap, but make up a small, picturesquely overgrown man-made rock.
2. Another type of rocky garden will look very natural — a gravel garden. Plants suitable for a rocky garden are planted in a prepared place. The soil between them is covered with gravel and several larger stones are laid out. It turns out a beautiful, easy-to-make and low-maintenance rocky garden.
stenka3. The rocky garden in the ruin style is fundamentally different. In the form of such a garden, you can arrange a retaining wall. Such a retaining wall is laid out of wild stone, most often flagstone. It is convenient to fold it in the manner of bricks. Slots are left in the masonry, where plants are subsequently planted.
4. Close in style to the ruined rocky garden, organized as a platform or path. It is laid out with a wild stone or even ordinary concrete slabs that you can walk on. The remaining places are filled with smaller stones, rubble, gravel and leave places for planting plants.
5. The Czech rolling pin is a fairly new trend in rocky gardening. It is made from stones that have flat edges, similar in shape to a slab. The stones are set on edge, close to each other, and so that the crevices look like in nature. Prepared soil is poured into the gap between the stones and plants are planted.
A few tips for designing a rock garden
The spatial effect of a rocky garden can be enhanced by transverse segmentation of the slopes in the form of ledges and small areas.
It is better to place large stones singly, and smaller ones in groups. They look very impressive against the background of gravel among low-growing ground cover plants and lawn grass.
The location of stones and plants must be carefully considered in order to achieve the effect of apparent disorder and naturalness.
Rock gardens are not necessarily formed around one hill. Its territory can spread over several adjacent hills, while the depressions between them are also formed with stones, pebbles or gravel, planted with ornamental grass and plants.
Fantasy and the ability to operate with natural forms provide examples of the most original and often unexpected solutions in the design of a rocky garden. You can make rock gardens with a spiral development of forms, with flat stones stacked on top of each other according to the principle of steps, with recesses (cuts) inside a hill or hill, limited by stone retaining walls, etc.
Если Вам понравилась статья, рекомендуем почитать