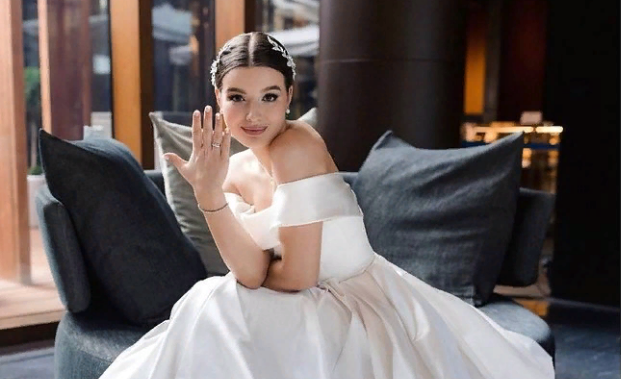 The chosen one of 22-year-old Alexandra, daughter of Ekaterina and Alexander Strizhenov, was her longtime admirer Anton Churekov.
The author of the dress for the bride was the mother's sister, designer Victoria Andreyanova. A laconic white dress with a long train created a gentle and stylish image of Alexandra. The outfit beautifully exposed the girl's shoulders and emphasized her thin waist.
Alexandra and Anton started dating since school, when the girl was 14 years old, and her lover was 16. They both studied at Moscow school No. 1584. A young man he graduated from school earlier, he is two years older than Sasha. Anton entered Moscow State University and graduated from the Faculty of Law.
Currently, he holds a senior position in a major federal project. Anton Churekov is Deputy General Director of the Science and Innovation Research and Development Center of Moscow State University Vorobyovy Gory. At 24, he is the project manager for 110 billion.
Alexandra Strizhenova, graduated from the mathematics and economics class and also entered Moscow State University. Not wanting to continue the acting dynasty, the girl graduated from the faculty of the Higher School of Modern Social Sciences with a red diploma. Alexandra is currently studying for a master's program at MGIMO. In parallel, the girl has her own business. Together with a friend, they opened an eco-friendly marketing agency.
Note that Alexandra decided to take her husband's surname, now she is Churekova.
Если Вам понравилась статья, рекомендуем почитать