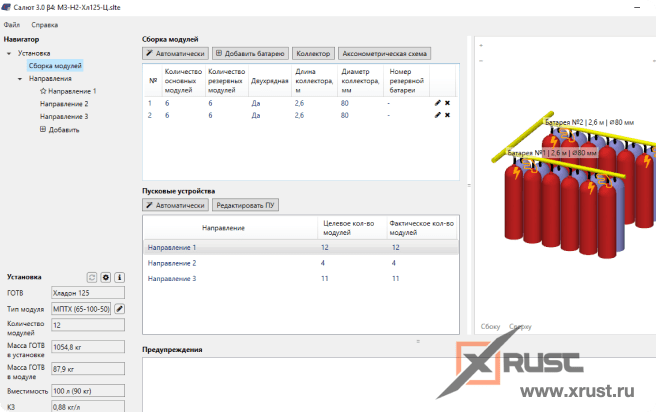 Gas fire extinguishing is based on the use of inert gases and chemical reagents to extinguish a fire. The system consists of agent (inert gas and chemicals used to extinguish the fire), agent storage containers, release valves, fire detectors, fire detection system (control panel wiring, fire alarm), agent supply piping and agent spray nozzles. Sometimes the agent can be delivered using solid propellant gas generators that produce either an inert or a reactive gas.
The gas extinguishing system is a relatively new technology. Unlike a conventional system that uses water, a gas-based system does not use water. The fire goes out, within a minute after activation everything happens automatically.
The Salyut program allows you to design a gas fire extinguishing system. You can download the fireworks program from Pozhavt for free at pozhavt.ru. The program is designed to calculate three types of gases: freon 125, freon 127, high pressure CO2.
With the help of the Salyut program, it allows you to perform the necessary calculations for the design of the technological part, namely:
— calculate the mass of GFFS in the installation of a gas fire extinguishing system;
— calculate the diameters of the pipeline sections and the area of ​​the holes;
br>- the area of ​​the opening to relieve excess pressure.
The program works in a complex way, taking into account the width of the openings, the tightness of windows, finishing materials, and based on this information, it gives the required amount of the supplied gas mixture to extinguish a possible fire.
Working with the application is extremely simple. You enter the initial data, a dialog box appears with the calculation of the mass of fire extinguishing agent needed for the zone, as well as the number of modules for the equipment.
Development of design documentation is carried out in one or two stages. If necessary, the program will work out the technical conditions (TS) and fire safety measures (MOPB) for the construction of facilities for various purposes.
Is it always necessary to provide fire protection with a gas fire extinguishing system?
In certain locations, such as server systems, control cabinets, distribution cabinets, or near fragile equipment, water can cause more and irreversible damage than fire. So, for example, in a server room, the data on the server costs more than the server itself.
How does a gaseous fire extinguishing system work?
Gas fire extinguishing systems are usually used in hidden spaces. The principle used by the gas fire extinguishing system is that if the fire triangle is violated, the fire ceases to exist. In a room protected by a gas fire extinguishing system, various sensors are placed in different places. Each detector constantly monitors the premises for signs of fire.
If a fire is detected, an alarm is given, and personnel must evacuate the entire premises. The gas is then released indoors. Thus, the oxygen in the room quickly decreases to the level and the flame goes out.
Если Вам понравилась статья, рекомендуем почитать