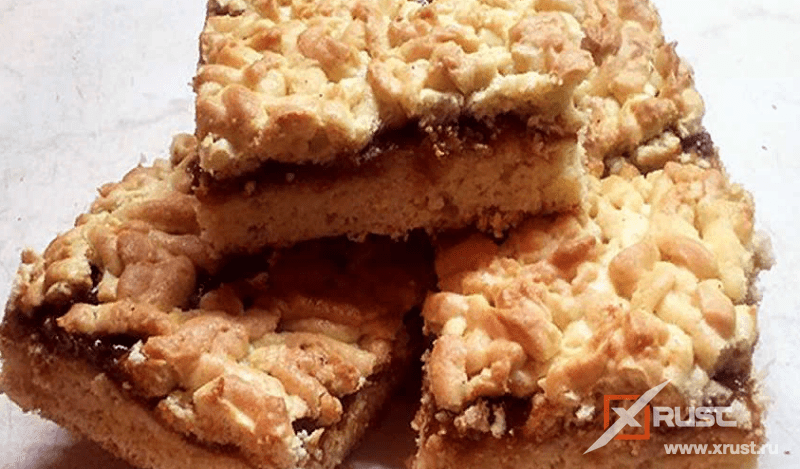 Let's prepare the famous Karakum pie. Using the simplest ingredients for cooking, without spending a lot of time, we get a fragrant and tasty cake. For the filling, you can use any jam or jam, you can also grated fresh apples.
You are waiting for guests in an hour. What do you need only half an hour to prepare this wonderful delicacy. And so you will need:
Egg — 1 pc.
Sugar — 1 cup
Butter or margarine — 200g
Flour — 1 cup
Soda — half a spoon
Salt — a pinch
Jam or marmalade, you can grated fresh apples with sugar.
Preparation:
Melt butter or margarine.
In a bowl, mix the egg with sugar.
Add the melted butter.
Then pour flour into the egg-butter mixture, add soda and salt. We mix all the ingredients, it turns out a very elastic dough
We remove 1/4 of the dough in the freezer.
Spread the rest of the dough in a thin layer evenly with your hands over the baking sheet.
Spread the jam on top of the dough.
We take out the dough from the freezer and three on a coarse grater, spreading it on top of the jam.
Bake the cake in a preheated oven at 180 degrees for 15-20 minutes.
As soon as the cake is browned, it is ready. Bon appetit! Recipe for a wonderful sherbet with peanuts, see here
Если Вам понравилась статья, рекомендуем почитать