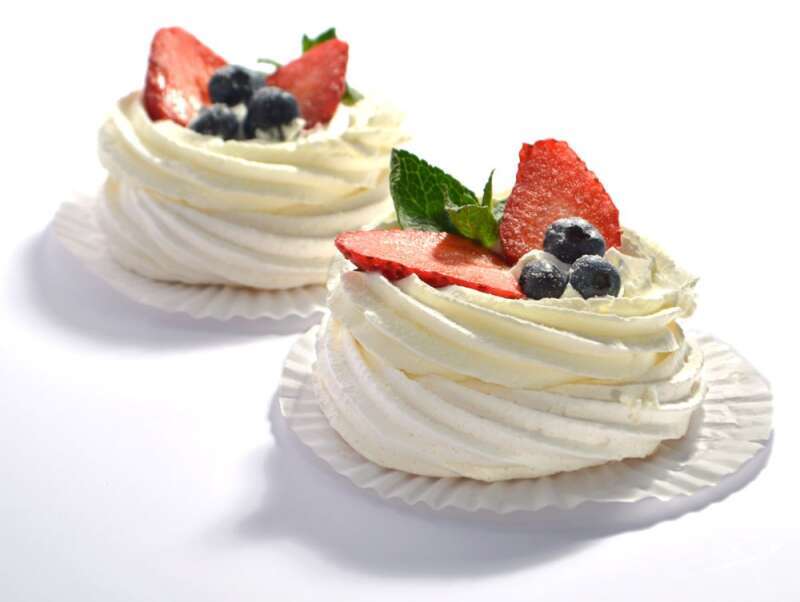 < br>This dessert consists of delicate crispy meringue, cream and berries. Cooking «Pavlova's baskets» is not difficult — you just need to be patient, and the time spent (20 minutes for cooking and 2 hours for baking in the oven) will be rewarded with an amazing delicacy. Anna Pavlova's dessert is named after a Russian ballerina, but surprisingly, Australia and New Zealand are considered the birthplace of the dessert. It is between these two countries that there is a struggle for the right to call themselves the birthplace of this dessert.
Ingredients:
Egg whites — 4 pcs.,
icing sugar — 260 g,
lemon juice — 1 tsp,
corn starch — 2 tbsp . l.
Preparation:
1. Beat the egg whites with a mixer into a strong foam.
2. Without ceasing to beat, add powdered sugar in parts.
Beat the whites until stable peaks and complete dissolution of sugar.
3. Then add starch and lemon juice to whipped proteins and gently mix with a spatula.
4. Place the whipped egg whites in a pastry bag with a nozzle. On a baking sheet covered with parchment, we plant the whipped protein in the form of circles-baskets, 6 cm in diameter.
5. We bake at up to 80 ° C for about 1.5-2 hours, with a slightly open oven or in convection mode. After turning off the oven, leave the baskets to dry in the oven for another 40 minutes.
6. We fill the cooled baskets with your favorite cream (for example, from butter and condensed milk), and decorate with any berries. Another dessert for berry lovers — Berry-protein mousse, see the recipe here
Если Вам понравилась статья, рекомендуем почитать