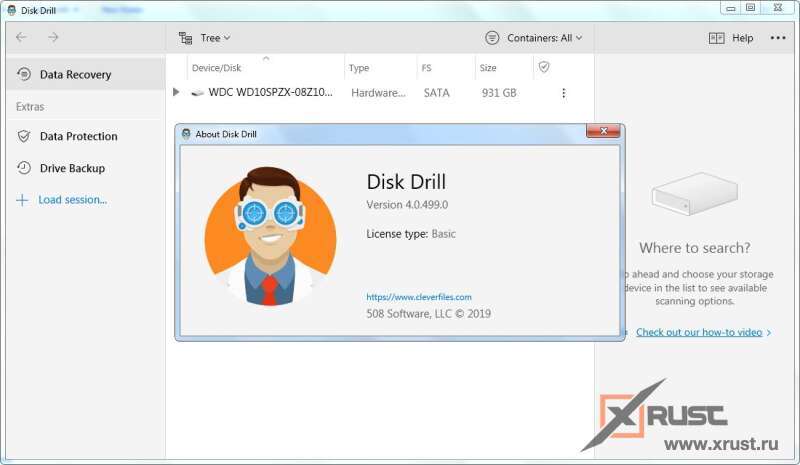 In the era of information, data loss can be a serious problem. In such cases, specialized data recovery programs come to the rescue, among which Disk Drill occupies a special place.
Disk Drill is a powerful and user-friendly data recovery tool developed by CleverFiles. It is designed to work with various storage media such as hard drives, USB drives, SD cards, and others. The program is available for Windows and macOS operating systems.
The main advantages of Disk Drill
Ease of use
Disk Drill has an intuitive interface that allows you to even for beginners, it is easy to navigate through the settings and features of the program.
A variety of supported file systems
Disk Drill works with most popular file systems, such as NTFS, FAT32, EXT4, HFS+ and others, which allows recover data from virtually any media.
Preview capability
Prior to the start of the recovery process, Disk Drill provides a preview of the found files, which allows you to assess the likelihood of a successful recovery and make a more informed choice.
Deep Scan
Disk Drill uses powerful deep scanning algorithms, which allows you to find even those files that were deleted long ago and were considered lost.
Security
Disk Drill ensures the safety of your data during the recovery process, without requiring writing to the original media and preventing possible overwriting errors.
Free version
Disk Drill offers a free version of the program that allows you to recover up to 500 MB of data, which can be enough for many tasks.
In conclusion, Disk Drill is an excellent choice for data recovery due to its simplicity, powerful features and accessibility for users of different experience levels.
Если Вам понравилась статья, рекомендуем почитать