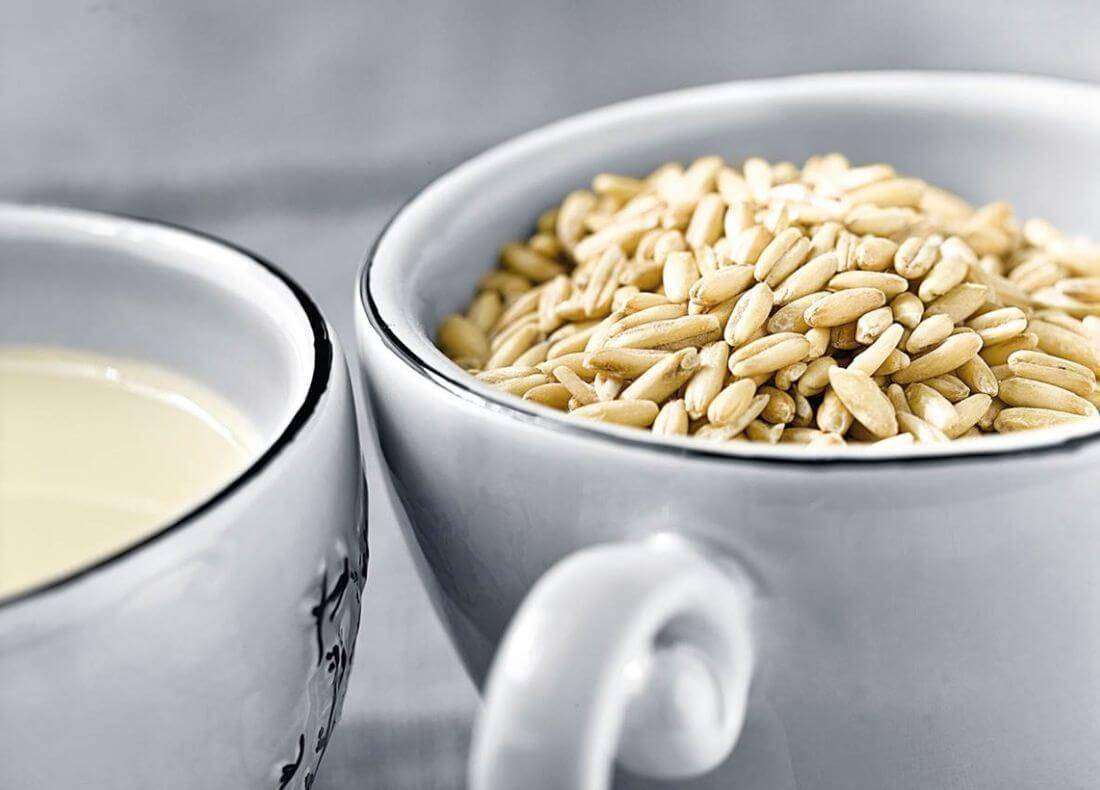 Oats are a very useful cereal crop that can work wonders.
Eating it every day you can speed up the metabolic process, thereby losing weight, cleanse and improve the entire organism.
After all, oats are slowly digested and dull the feeling of hunger, fiber removes toxins and toxins, and a viscous film heals and protects the gastrointestinal tract.
In addition, oats contain many vitamins and microelements, because it was not in vain that we were fed oatmeal in childhood so that we would grow up healthier.
A decoction of oats for weight loss is not prepared as quickly as we would like, and a ready-made decoction cannot be stored for more than a day, so it is better every day prepare a new one.
We prepare the broth in an enamel bowl.
Contents
Sheep decoction recipe
The recipe for a decoction of oats with herbs for weight loss
If you liked the article, we recommend reading it
Sheep decoction recipe
To prepare a decoction of oats, you need 2 tbsp. oat grains (pre-washed with running water), which is filled with 1 liter. clean water.
The oats soaked in water should stand for 12 hours.
Then put the infusion on the fire and bring to a boil.
After boiling, reduce the heat and cook for about an hour and a half on low heat, then cool.
Strain the oats through a sieve and grind with blender.
Add the gruel to the broth and steam for another half hour.
Put the finished oat broth in the refrigerator and take 200 ml 3 times a day before meals.
The decoction can be drunk for 2-4 weeks and get rid of 5-10 kg of excess weight, as well as improve the digestive system.
And if you like it, you can repeat the course up to three times a year.
And of course, do not forget to consult a doctor if you have chronic diseases so as not to harm the body.
Recipe for herbal oatmeal for weight loss
Recipe for herbal oatmeal for weight loss that cleanses the liver.
Vo the course of taking this decoction, and it is designed for 10 days, you can not take meat products.
For it you need: oats, buds or birch leaves, wild rose, knotweed, lingonberry leaves.
And so, in an enameled pan (you can also use glass), we pour pre-washed 1 tbsp. oats, 3 tbsp. l. lingonberry leaves, 2 tbsp. l. buds or leaves.
Pour everything into 4 liters. water and put in a dark and cool place for 24 hours.
The next day, when the infusion is ready, pour 1 tbsp. chopped rose hips and pour 1 tbsp. water.
We put the pot with rose hips on the fire and bring to a boil, then add 2 tbsp. l. knotweed.
Simmer for another 15 minutes. After 40 minutes, when the infusion with rosehip and knotweed has cooled, filter.
After the final cooling, add the strained infusion from the 1st pan and mix everything.
Pour into bottles and take 50 ml 30 minutes before meals, gradually increasing (by adding 50 ml) to 150 ml.
Important: while taking oatmeal broth for weight loss, you should not eat fried and fatty foods, sweets and you need to exercise , as well as get rid of bad habits.
If you liked the article, we recommend reading
Rosehip decoction for weight loss
How to achieve a beautiful figure
Original article posted at Gabdullin.com
If you liked the article, we recommend reading
Nutritional stereotypes
Chia's miracle seeds: a complete overview of the health benefits
Если Вам понравилась статья, рекомендуем почитать