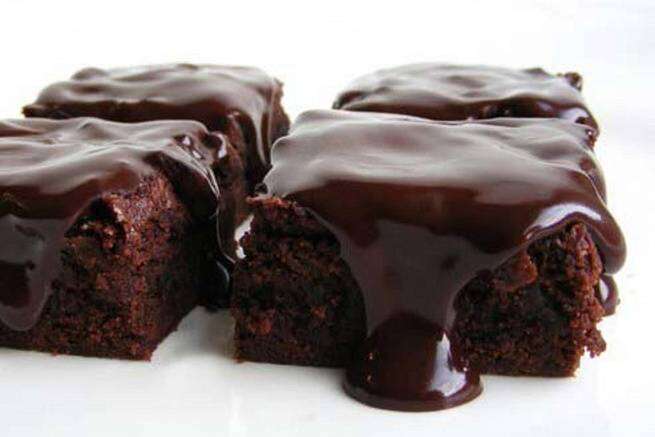 < /p>
This cake melts in your mouth. Lean chocolate brownie with notes of coffee and nuts is tender, slightly moist and delicious. Having treated guests with a piece, they will reach for the second!
Ingredients:
dark chocolate — 100 g.
flour — 2 cups.
Sugar — 1 ½ cups
Cocoa — ½ cup
Water — 200 ml.
vegetable oil — 150 ml
nuts (any) — 100 gr.
baking powder — 1 tsp.
soda — ½ tsp. lie
salt — ½ tsp.
vanilla — 1 tsp. l.
Glaze:
Cocoa — 3 tbsp. lies
flour — 1 tbsp. lie
Sugar — 6 tbsp. lodges
Water — 7 tbsp. lodges
Vegetable oil — 2 tbsp. lodges
Preparation:
Mix all dry ingredients — flour, cocoa, baking powder, salt and vanillin.
In a separate bowl, bring water almost to a boil, add chocolate slices and sugar, stir. The chocolate should melt completely.
To the dry ingredients, pour in the chocolate mixture and add the chopped nuts, stir thoroughly.
Bake in a preheated oven at a temperature of 180 ° for about 25 minutes.
Prepare the glaze:
Mix cocoa and sugar in a bowl, add water and vegetable oil. We put the mixture on the fire and stir, cook until thickened for 5 minutes.
Pour the icing on the baked cake. Our lean brownie is ready! We offer a recipe for a lean cupcake in 10 minutes here, how to make a lean berry cream dessert, see here
Если Вам понравилась статья, рекомендуем почитать